Happy Sunday, TW readers! What a beautiful weekend here in Washington, DC. It's been sunny and warm during the day, and clear and cool at night -- no complaints from me. It's also the birthday weekend of two of my sisters: one yesterday and one today.
It's interesting how you think about the passage of time when it relates to your own age, versus time as it relates to the age of your siblings. It's crazy to me that my sisters are now in their mid- to late-twenties. It seems like yesterday that we were all just barely entering our twenties and making our way in the world.
In honor of ALL of my sisters, but especially the birthday girl today, I'd like to share one of my favorite songs from the Queen B, Grown Woman:
In the photos above, you see actor Armin Shimmerman in and out of make up as Quark, the snarky bartender and smuggler on
Star Trek: The Next Generation
AND
Deep Space 9
. Over time, through excellent writing and excellent acting on the part of Shimmerman, Quark became the epitome of Ferengi characters on Star Trek. He follows the traditional philosophies of his people as best he can, even while he lives and works among humans and other aliens who don't share his point of view.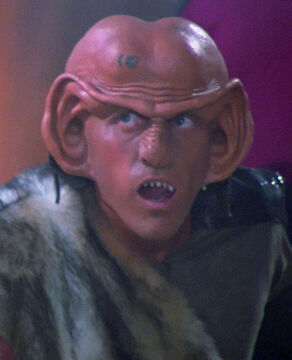 Armin Shimmerman greatly influenced how Ferengi characters evolved on Trek. He actually played Letek, one of the very first Ferengi to appear on Star Trek (see right). A few seasons later, the character of Quark was specifically created for Armin Shimmerman, because Trek producers and directors were so impressed with him.
In the fifth episode of Season 1 of
Star Trek: The Next Generation
, the Ferengi were introduced as an antagonistic species to humans and to Starfleet. But it quickly became clear to viewers that the Ferengi did not pose a threat to the Federation as Klingons, Romulans, and Cardassians did. Trek episodes involving Ferengi are typically comedic in nature, as Ferengi motivations are almost always profit- and/or pleasure-based, and Ferengi actions are almost always bumbling and mischievous rather than violent or malicious.
Armin Shimmerman mused at a recent convention that while Starfleet and the Federation represents what humanity has the potential to become, the Ferengi species seems to reflect what humanity is today. In a separate interview almost ten years ago, Shimmerman said, "my character is basically my adolescence." Both of Armin's observations align with Roddenberry's 1986 quote that "[Humanity] still just a child creature: we're still being nasty to each other. And all children go through those phases. We're growing up, we're moving into adolescence now. When we grow up — man, we're going to be something!"

Shimmerman described Ferengi as the capitalists of the future -- the capitalists of space. EVERY other alien species featured on Trek looked down on Ferengi for having such low motivations. No honor, no logic, no drive to learn, no drive for anything but wealth. Indeed, Ferengi culture is centered on greed, and almost every Ferengi character is motivated by making profit.
Deeply embedded in Ferengi culture are the life principles called "The Rules of Acquisition." There are 285 Rules of Acquisition, and throughout
The Next Generation, Deep Space 9
, and
Voyager,
the audience learns several, though not all, of the rules. Star Trek writers used Ferengi and especially their "Rules" to portray the backwardness of current capitalist realities, especially the exploitation of employees, the use of war for monetary gain, and the pursuit of profit without any consideration of family, the environment, or general decency.
Beyond profit, Ferengi culture promotes sexual pleasure and the subjugation of women.
There are many scenes of Ferengi seeking sexual gratification through "oo-mox," the massaging of their "lobes" (ears), which is their erogenous zone. Ferengi women are not allowed to work or go into business for themselves, and Ferengi law also demands that women remain naked at all times, thus they are not normally seen outside of the home. Ferengi women are referred to as "females" by Ferengi men, i.e. "You let your females leave the house
clothed
?!"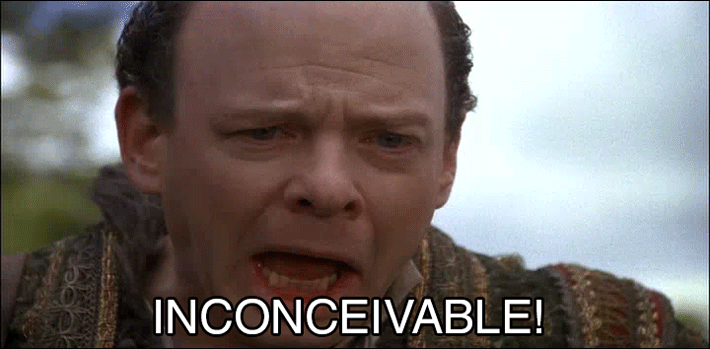 In the above GIF, you see actor Wallace Shawn delivering what is probably his most famous line EVER, from the film,
The Princess Bride
. At left is Wallace Shawn as Zek, the ruler of Ferenginar, known as "the Grand Nagus." As soon as Grand Nagus Zek speaks, you'll recognize his voice, and don't worry, there is a video below where you can hear him interact at length.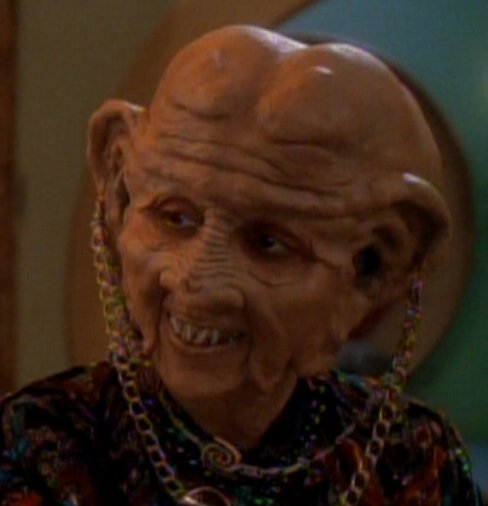 When the Nagus is introduced, he is as focused as ever on money. He is, after all, the leader of Ferenginar: his job is to channel the greed of his planet and maintain a growing economy. Zek also maintains the patriarchal themes introduced through other characters. He berates and shames a Ferengi woman who disguised herself as a man in order to prove herself as a business leader, even though she helped bring great profit to Ferenginar. All of that changes however, when he meets and falls in love with Ishka, Quark's mother (see right).
Ishka is a strong Ferengi woman with a knack for businesss. So much so that in the episode where she first appears, she is being investigated by the Ferengi Commerce Authority for illegally doing business (as a female), and Quark must go to his home planet to address the issue (since he is male). Ishka shocks Quark further when he finds that she has taken to wearing clothing around the home and refuses to undress. As Zek's significant other, Ishka ultimately guides the Grand Nagus to create reforms on Ferenginar that include a progressive income tax to support social services for the poor and elderly, as well as extending Ferengi women the right to wear clothes wherever they want.
Beyond Quark, Zek, and Ishka, there is one other Ferengi whom I must mention here -- Nog. Nog is Quark's nephew, and he becomes the first Ferengi in Starfleet. He is played by the excellent Aron Eisenberg.
In a very moving scene from DS9, Commander Sisko asks Nog why he wants to go to Starfleet Academy, pushing for Nog's underlying motivations. Nog reveals that he's determined to get into Starfleet to avoid ending up a failure at business like his dad. In Ferengi culture, the reality of the 18th Rule of Acquisition reigns supreme: "a Ferengi without profit is no Ferengi at all." Nog doesn't care about profit, and he doesn't want to restrict himself to menial work and an unfulfilling existence just because he doesn't have "the lobes for business
."
Nog quickly proves himself to be a dutiful and resourceful Starfleet cadet (seen left) before transitioning to service as an Ensign. As a Starfleet officer, Nog fights on the front lines of the war with the Dominion and loses a leg. By the end of Deep Space 9, Quark is no longer trying trying to talk Nog out of Starfleet. Everyone -- including Quark -- can see that Nog has made a significant contribution to the DS9 crew.
I leave you now with a scene between Quark and Garak, a Cardassian whom I will feature in due time later in this series.